We currently have hundreds of satisfied customers in over a dozen countries. Here is what a few had to say
Innsbruck University Innovations GmbH, Austria
ScanMyPhotos
Miraescan co.,Ltd. , South Korea
University of Colorado Boulder, Art and Art History
EverPresent Inc.
Museum Of Youth Culture, United Kingdom
BSB Mikrografie, Switzerland
FamilySearch Centers of Utah
Norsk Teknisk Museum, Norway
Hillsborough County Medical Examiners
California State University
Texas A&M University O&M Atmospheric Sciences
Forever.com
Dodge-Chrome
Queensland University of Technology, Australia
Memory Ventures
Mitchel Park Library, CA
Bruno & Dario Verzoletti, Italy
Northern Onondaga Public Library New York
University of Wyoming American Heritage Center
Fotoyks, Finland
Case Western University, Ohio
Chicago Police Dept.
Paired Rail RR Publications, MO
National Museum of Ethnology, Japan
Eran Ackerman, Israel
University of Saskatchewan, Canada
8 Numérique Paris, France
VASTEC
VDH-Media, Netherlands
Stephen Bakker, New Zealand
Weston Historical Society, Massachusets
Tarrant County College, Texas
Lahey Hospital
Transfert Transmédia Inc., , Quebec
USACE Chief Joseph Dam, WA
Robert AM Stern Architects, NY
Digital Treasury Group, Canada
GoodSpeed Communications Co., Taiwan
AKG-Images gmbh, Germany
Vectracom, France
Colgate University
Minnesota State University
Het Nieuwe Instituut, Netherlands
Finnish University, Finland
Washington State Parks and Rec.
Rochester Institute of Technology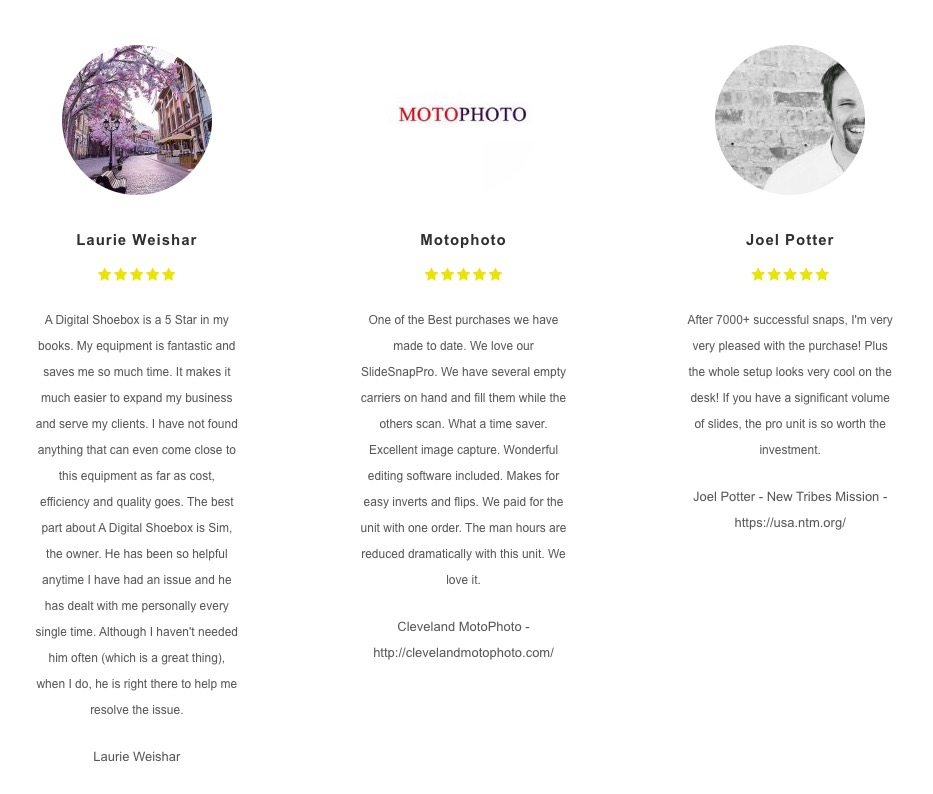 "I think your product is damned brilliant, a great cross pollination of old and new technologies to meet a present day need with professional results. – Louise N"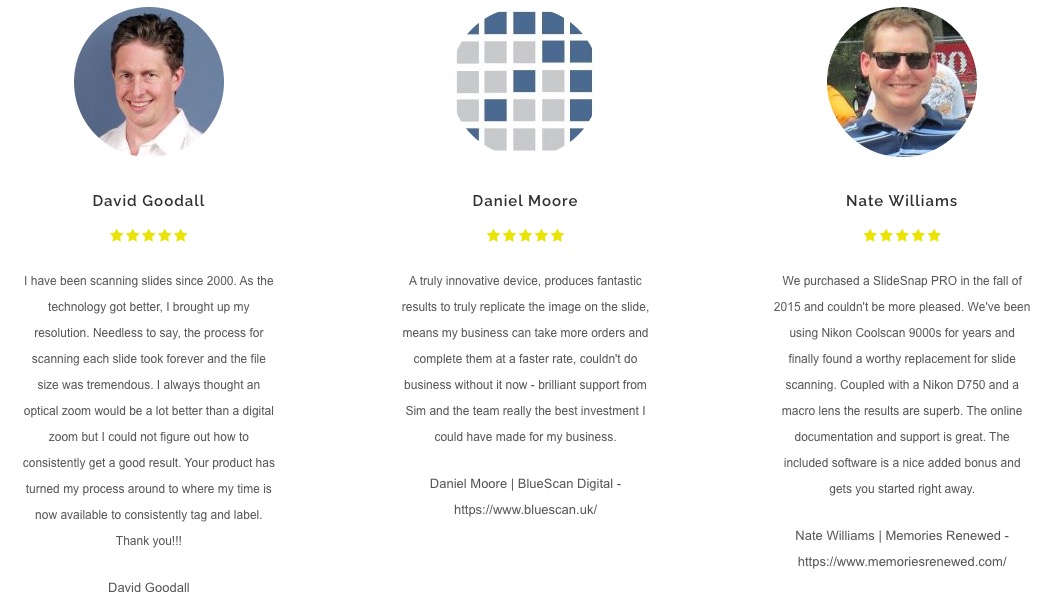 Good Morning, My husband Greg Sloan purchased your SlideSnap Pro last year for my Father n Law Jim. Jim is n his late 80's with moderate Parkinson's. He owned a camera store for many years and was a professional photographer. Since Jim received the SlideSnap last year from my husband, he has single-handily converted close to 20,000 slides onto his computer.
My mom takes great pleasure in dumping the old slides as they used to occupy 3/4 of one their spare rooms in the house. Jim takes great care in dusting and inspecting each and every slide before he places them in the carousel to be downloaded into digital form. This has been a blessing in so many ways. This "project" has kept Jim busy and active. It is pleasurable for him to take a trip down memory lane and re-visit all the places he and my mom traveled around the world. They also put in over 200,000 miles in their RV seeing and photographing the sites in the United States and Canada. Jim has also had some of his photos published in National Geographic Magazine, related to Caving.
I cannot express to you how much this means to not just Jim but our entire family. Now I will be able to go through the pictures with ease and make a memorable photo-book for them to place on their coffee table. As you can imagine there are a lot of outstanding photos.
I wanted to let you know about Jim and his successes with your product. I believe Jim would be a great interest story and testament to the ease of your product for your website and or advertising. Since his neighbors and friends have found Jim's new passion they are asking him if he could convert their slides for them. Just when he thought he was officially retired, looks like he just might be making a little money on side.
With Gratitude, Kathy Sloan